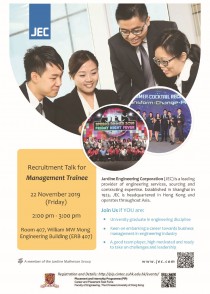 Date: 22 Nov 2019 (Friday)
Time: 2:00 – 2:00 pm

Venue: Room 407, William M W Mong Engineering Building (ERB407)
Language: English
About Jardine Engineering Corporation
Jardine Engineering Corporation (JEC) is a trusted provider of engineering and building services and products across Asia, offering contracted installation and maintenance as well as specialist product sourcing.
JEC is able to provide its wide range of products and services to any organisation, but we have particular depth of experience in three key sectors: Buildings, Environmental Infrastructure, and Transportation & Logistics.
JEC's extensive product supply and sourcing capabilities serve our contracting services and customers' direct requirements for reliable high quality electrical & mechanical (E&M) equipment and building products that precisely meet their needs.
Jardine Engineering Corporation Management Trainee Programme 2020
Programme Overview
To provide a structured and all-rounded training curriculum for all Management Trainees
To develop a group of potential managers and/or leaders with essential technical knowledge and business skills to support JEC's succession planning and for future business expansion
Management Trainees from disciplines of Building Services, Mechanical or Electrical Engineering can be registered onto HKIE Graduate Training Scheme "A" programme
Programme Structure
Duration: 24 months (July 2020 – June 2022)
Job rotation to different business units
Development & Exposure
Project experiences and exposure within the company as well as Jardine Group
On-the-job experience through participation in signature projects
Continuous professional development with support from the Company
Mentoring and coaching support
Career progression with development plans
Regional exposure or training assignment (dependent on business needs)
Qualifications
University graduates in Engineering discipline
Strong interest and enthusiasm in developing a career towards engineering and/or business development
Good interpersonal skills with positive attitude, eagerness to learn
Good planning and analytical skills
Excellent command in English and Chinese
Application Process
Online application through http://www.hk.jec.com only
Application deadline: 31 December, 2019
Selection Process
Video submission
Written Test
Group Assessment
Panel Interview
Enquiry
Email to mt.recruitment@jec.com