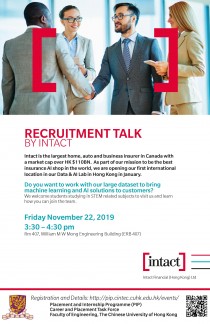 Date: 22 Nov 2019 (Friday)
Time: 3:30 – 4:30 pm

Venue: Room 407, William M W Mong Engineering Building (ERB407)
Language: English
Do you want to work with large datasets, develop state-of-the-art ML/AI solutions, implement and see the impact of your work? Come and hear what we are offering at Intact!
Merging the speed and culture of a start-up with the resources and means of a large enterprise, the Intact Lab is a dynamic team offering exciting challenges, inspiring colleagues and great career opportunities (at one of Canada's Top 100 Employers!)
About Intact:
Intact Financial Corporation (TSX: IFC, HK$110 billion in market cap) is the largest property and casualty insurance company in Canada serving millions of insureds/customers across Canada and the United States. Intact Financial (HK) limited (Intact Lab, HK) is the first R&D AI shop under the umbrella of IFC in Asia Pacific region.
Just like the Intact Lab counterpart in Canada, the HK Intact Lab's mission is to develop and implement innovative data science solutions that contribute to the realization of Intact's purpose, objectives and strategies. The Lab is a digital innovation hub bringing together actuaries, data scientists, machine
learning experts, geomaticians, meteorologists and software engineers who work together to propose and implement innovative solutions to the complex issues facing us.