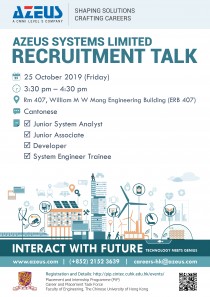 Registration will be closed at 11:00, 4 Oct 2019. Those who are not registered may try to walk in on a first-come, first-served basis.
Looking for a brighter career, not just a job.  Azeus is your only choice!
Come and check out how you can kick off you journey to become an IT professional with Azeus. We provide comprehensive training to equip you upon job commencement.
About AZEUS
Azeus Systems Limited is a Hong Kong-based leading IT services provider founded by MIT graduates, publicly listed in Mainboard of SGX with more than 25 years' experience in successfully delivering IT solutions to various clients in both public and private sectors in Asia Pacific and Europe. Azeus operates in Hong Kong, UK, United States, Australia, Canada and Philippines.
Since its establishment in 1991, Azeus has set a solid track record of building deep expertise in development, enhancement, integration, support and maintenance of systems and products across industries and geographies. We are the first company accredited with CMM Level 5 in Greater China and the first company in Hong Kong attained CMMI Level 5, which signified our commitment to high standards in quality.
Job Openings
Junior System Analyst
Junior Associate
Developer
System Engineer Trainee
Explore more about Azeus Systems Limited at www.azeus.com.