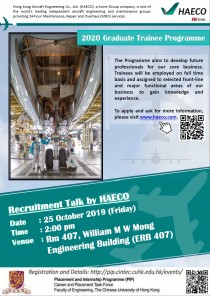 Date: 25 Oct 2019 (Friday)
Time: 2:00 – 3:00 pm

Venue: Room 407, William M W Mong Engineering Building (ERB407)
Registration will be closed at 11:00, 4 Oct 2019. Those who are not registered may try to walk in on a first-come, first-served basis.
Hong Kong Aircraft Engineering Co., Ltd. (HAECO) (香港飛機工程有限公司), a Swire Group company, is one of the world's leading aeronautical engineering groups providing 24-hour and comprehensive range of services encompassing Airframe Maintenance, Cabin Reconfiguration, Freighter Conversion, Line Maintenance, Component Maintenance, Fleet Technical Management, Inventory Technical Management and Technical Training. To learn more about HAECO, please visit www.haeco.com.
Job Description:
The Graduate Trainee Programme aims to develop future professionals for our core business including Technical Services, Planning & Production Control, Aircraft Maintenance, Inventory Technical Management, Commercial, Finance, Material Management and other major functional areas.
Trainees will be employed on full time basis and assigned to selected front-line and major functional areas of our business to gain knowledge and experience of aircraft maintenance practices, aircraft design principles, systems operation, inventory management, maintenance planning and control, aviation legislations, safety management systems as well as human factors and quality systems. Our Graduate Trainee Programme (Engineering Stream) is a Hong Kong Institution of Engineers (HKIE) accredited Scheme "A" Training Programme in the Aircraft Engineering discipline. Trainees in Engineering Stream will go through Scheme "A" Training in pursuit of engineer membership in the HKIE. Furthermore, by fulfilling the necessary requirements, the trainees will be able to obtain the aircraft maintenance licence issued by the Hong Kong Civil Aviation Department.
Upon successful completion of the programme, the trainees will continue to broaden their career prospect in allocated business units for further development.
Requirements:
-          A university degree majoring in Engineering, Logistics, Purchasing, Business Administration, Marketing, or other related disciplines with good academic results
-          Good interpersonal and communication skills
-          Analytical, innovative, self-motivated and determined to succeed
-          A good team player with strong leadership qualities
-          Proficient in both English and Chinese, both spoken and written
-          Interested in the field of aviation or aircraft engineering
-          A right of abode in Hong Kong and Recent university graduates not worked in a full-time capacity for more than 2 years
Application Closing Date: 10 November 2019 (Sunday)
Interested candidates MUST:
1:  Fill in the personal particulars online (click https://forms.gle/oVSfqhJwNjGyz2VW6 to access the online application web page); AND
2:  Send us your resume with present and expected salary by post or email to our Human Resources Department
By Email: career@haeco.com
[IMPORTANT: Please use the file name in the following format: Last Name_First Name_Other Names (if applicable)]
By Post: Resourcing Team, Human Resources Department, HAECO, 80 South Perimeter Road, Hong Kong International Airport, Lantau, Hong Kong
Remarks:
-          Candidates who fail to complete either of the above procedures, their application will NOT be considered.
-          Only shortlisted candidates will be contacted
-          HAECO is an equal opportunity employer. Information provided will be treated in strict confidence and will only be used for recruitment-related purposes.