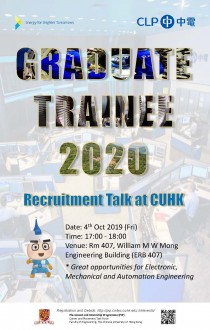 Date: 4 Oct 2019 (Friday)
Time: 5:00 – 6:00 pm

Venue: Room 407, William M W Mong Engineering Building (ERB407)
Language: Cantonese
Registration will be closed at 11:00, 4 Oct 2019. Those who are not registered may try to walk in on a first-come, first-served basis.
Founded in 1901 as China Light and Power Company Limited in Hong Kong, CLP Group has grown from a Hong Kong-based power utility into a leading investor and operator in the Asia Pacific Region's electricity market. Its portfolio comprises over 60 generation assets of gas, coal, nuclear and renewable energy, distribution and transmission assets and retail operations. The CLP Group is owned by CLP Holdings, a company listed on the Stock Exchange of Hong Kong.
Job Specification:
Successful candidates will go through a 2-year well-structured training programme leading to the HKIE Corporate Membership, and be groomed as competent engineers to help powering the growth and prosperity of the society by providing highly reliable electricity supply and excellent customer services.
During the 2-year programme, the trainees will receive all-round technical and management training, including leadership training. They will also be placed under the guidance of experienced training tutors and engineering supervisors. Upon successful completion of the programme, the trainees will be assigned to a specific department in CLP operations or engineering projects.
Qualification and attributes:
· Final year university student or recent university graduate majored in Electronics and Mechanical & Automation Engineering
· A team player with good communication skills and leadership potential
· Analytical, innovative, proactive, self-motivated and adaptable
· Willing to take up shift and/or standby duties (if necessary) on graduation
Application methods:
Please apply by sending email to the below address together with the attached job application form downloaded from https://www.clp.com.hk/en/about-clp/careers/students-and-graduates/graduate-trainee-programme no later than 8 November 2019.
hrgbg@clp.com.hk (for Electronics, Mechanical & Automation Engineering Graduates)
clpe@clp.com.hk (for Building Services and Energy Engineering Graduates)