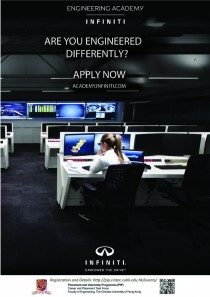 Registration will be closed at 11:00, 12 Apr 2019. Those who are not registered may try to walk in on a first-come, first-served basis.
Title of the Talk
Once-in-a-lifetime Opportunity – The Only Global Graduate Programme for Automotive and Formula One™ Engineering Talent
Speakers of the Talk
Director, Global Communications, INFINITI Motor Company Limited
INFINITI Engineering Academy China 2018 Winner
About the Talk on INFINITI Engineering Academy (IEA)
On 12 April 2019, Mr. Tommaso Volpe, Director of Global Motorsport & Performance Projects of INFINITI will share the 2019 edition of the INFINITI Engineering Academy – recruiting the best engineers worldwide to work both with INFINITI Motor Company and Renault Sport F1 Team.
Now in its sixth successive year, the Academy provides a life-changing career opportunity for students to learn from veteran engineers and play an active role in INFINITI's technical partnership with Renault Sport F1 Team.
This one-of-a-kind global search for the world's best up-and-coming engineers will provide each winner with a 12-month placement opportunity, complete with travel, accommodation, access to an INFINITI company car, a salary and the possibility to work alongside world-leading engineers at the cutting edge of the automotive and motorsport industries.
For more details about the placement, please visit https://academy.infiniti.com