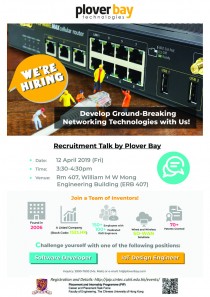 Registration will be closed at 11:00, 12 Apr 2019. Those who are not registered may try to walk in on a first-come, first-served basis.
About Plover Bay
Plover Bay Technologies Limited is a listed company on the main board of the Hong Kong Stock Exchange (stock code: 1523.HK). We are an Internet Connectivity technology company focusing on the design, development, marketing and sale of software-defined products and services under our brands "Peplink" and "Pepwave".
Our connectivity products add value and save cost for enterprise, industrial and government organizations. Our products are sold to end users through an extensive network of over 500 distributors and resellers in over 70 countries in the world. Our solutions are deployed in maritime and ground transport, public safety, education, retail and enterprise branches to ensure unbreakable connectivity to critical resources such as cloud services, ERP, e-mail, and significantly reduce networking costs.
Through our proprietary technology, SpeedFusion, our solutions also open up new possibilities, such as mobile workspace on a bus, mobile surveillance streaming for public safety and other future opportunities in Internet of Things.
Job openings
Software Developer
IoT Design Engineer
Inquiry: Ms. Mak (Tel: 2990 7693 / Email: hr@ploverbay.com)
Website: www.ploverbay.com