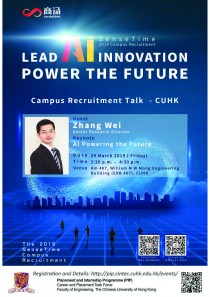 Registration will be closed at 11:00, 29 Mar 2019. Those who are not registered may try to walk in on a first-come, first-served basis.
About SenseTime
With our roots in China, SenseTime's proprietary AI technologies have placed us at the forefront of global AI industry development.
We believe that AI will unlock another era of China-lead global development, and that the R&D and deployment of computer vision and deep learning technologies will redefine human life as we know it and establish a new connection between us and the world at large. Not only will this transform society as a whole, but it will push mankind forward as well.
About the Talk
Topic: AI Powering the Future
Speaker: Dr. Zhang Wei, Senior Research Director of SenseTime
Website: www.sensetime.com