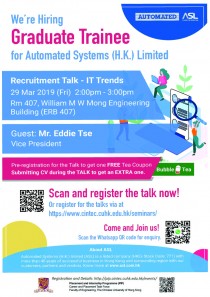 Registration will be closed at 11:00, 29 Mar 2019. Those who are not registered may try to walk in on a first-come, first-served basis.
About ASL
Automated Systems (H.K.) Limited (ASL) has a distinguished and proud reputation of more than 40 years of successful business in Hong Kong and surrounding regions with our customers, partners and vendors.
We have subsidiaries and associates in a number of locations, including Hong Kong, mainland China, Taiwan, Macau, Thailand, Singapore, Malaysia, Europe and the United States.
Since our founding in 1973 and our subsequent public listing on the Stock Exchange of Hong Kong Limited in 1997 under the name of Automated Systems Holdings Limited ("The ASL Group") (HKEx stock code: 771), we are well recognized as a leading global IT solutions and services provider for organizations of all sizes and across all industries.
Website: http://www.asl.com.hk
About the Talk
Recruitment Talk – IT Trend
Guest Speaker: Mr Eddie Tse, Vice President of ASL