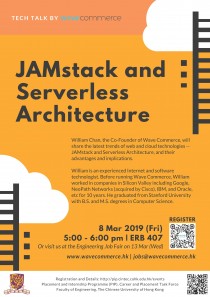 Date: 8 Mar 2019 (Friday)
Time: 5:00 – 6:00 pm

Venue: Rm 407, William M W Mong Engineering Building (ERB 407)
About the Tech Talk of JAMstack and Severless Architecture
William Chan, the Co-Founder of Wave Commerce, will share the latest trends of web and cloud technologies — JAMstack and Serverless Architecture, and their advantages and implications.William is an experienced Internet and software technologist. Before running Wave Commerce, William worked in companies in Silicon Valley including Google, NeoPath Networks (acquired by Cisco), IBM, and Oracle, etc for 10 years. He graduated from Stanford University with B.S. and M.S. degrees in Computer Science.
About the Company of Wave Commerce
Wave Commerce specializes in serving the unique technology and marketing needs of clients with strategic e commerce businesses. Our team comprises of creative and marketing professionals as well as software engineers and product technologists.Our flagship customer loyalty solution, S Loyalty, has been used by over a thousand online businesses worldwide to delight and reward customers.At Wave Commerce, our journey starts with our clients' success in mind. Every client is different and we're proud to have worked with great clients, including both well-established brands with an international presence, and those local to the Hong Kong market. We value multi-year relationships and helping our clients drive towards long-term, sustainable growth.
About the Position of Software Engineer
Wave Commerce is looking for enthusiastic engineers that have a passion for new technologies (e.g., cloud computing), enjoy working in a team environment and eagerto develop skills in web programming. Candidates who are passionate about coding and hold a high standard for excellence are encouraged to apply.Our office is located in Tsim Sha Tsui, Kowloon. To apply, please send your resume and transcript to jobs+eng@wavecommerce.hk .
Responsibilities: As a Software Engineer, you may be responsible for:
Programming and development for web / mobile interfaces;
Engineering operations to support clients;
Writing code to implement the system, including user interface, frontend, andbackend;
Performing benchmarking and improving the performance of the system;
Troubleshooting and resolving technical issues of the system.
Requirements:
Bachelor's degree or above in computer science or other technical disciplines;
Hands on experience in team programming projects, preferably using Git orother source control systems;
Proficiency in one or more programming languages, preferably Python andJavaScript;
Mastery of logical and analytical skills and passion in creating new things;
Ability to work and excel in a fast paced environment.