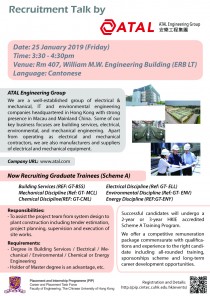 Date: 25 Jan 2019 (Friday)
Time: 3:30 – 4:30 pm

Venue: Rm 407, William M W Mong Engineering Building (ERB 407)
Language: Cantonese
Registration will be closed at 11:00, 25 Jan 2019. Those who are not registered may try to walk in on a first-come, first-served basis.
ATAL Engineering Group
We are a well-established group of electrical & mechanical, IT and environmental engineering companies headquartered in Hong Kong with strong presence in Macau and Mainland China.  Some of our key business focuses are building services, electrical, environmental, and mechanical engineering.  Apart from operating as electrical and mechanical contractors, we are also manufacturers and suppliers of electrical and mechanical equipment.
Job Opening: Graduate Trainee (Scheme "A" – 2019 Intake) (Ref: GT)
Academic Programmes Eligible to join our Graduate Trainee Programme: BEng in Mechanical and Automation Engineering, BEng in Energy Engineering
Job Description & Requirements:
A comprehensive Scheme "A" Training will help you to become a professional engineer and to be the HKIE Corporate Member in a faster route. Join ATAL and explore your potentials.
Successful candidates will undergo HKIE accredited Scheme "A" Training Program in Building Services, Electrical, Mechanical, Environmental, Chemical, or Energy Discipline.You will be given the opportunities to assist the project team from system design to project construction including tender estimation, planning, supervision and execution of site works.
The position provides all-rounded on-the-job training and coaching, job rotation across different business units (subject to training arrangement), alongside exciting and challenging career development opportunities.
Come and join us!
Requirements:
l   Degree Holder or above in Mechanical/ Electrical/ Building Services/ Chemical / Environmental / Energy Engineering
l   Good command of English and Chinese, both spoken and written
l   Excellent communication and interpersonal skills
l   Self-initiative, proactive, energetic and strong sense of responsibility
Contact for enquiries : Ms. Zoie Leung (tel: 2565 3429)
Application: send full resume stating relevant job reference, academic results, expected salary and availability to Human Resources to career@atal.com
Company website for more information: www.atal.com