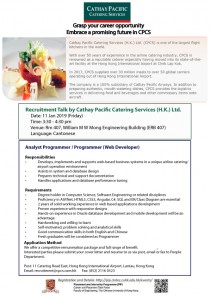 Date: 11 Jan 2019 (Friday)
Time: 3:30 – 4:30 pm

Venue: Rm 407, William M W Mong Engineering Building (ERB 407)
Language: Cantonese

Registration will be closed at 11:00, 11 Jan 2019. Those who are not registered may try to walk in on a first-come, first-served basis.
About the Company
Cathay Pacific Catering Services (H.K.) Limited is one of the largest flight kitchens in the world with the largest catering facility at Hong Kong International Airport, producing a daily average of 83,000 meals daily and serving over 50 international airline clients with an order fulfillment of up to 200 flights daily.
Job Openings
Analyst Programmer / Programmer (Web Developer)
Responsibilities
Develops, implements and supports web-based business systems in a unique airline catering/ airport operation environment
Assists in system and database design
Prepares technical and support documentation
Handles applications and database performance tuning
Requirements
Degree holder in Computer Science, Software Engineering or related disciplines
Proficiency in ASP.Net, HTML5, CSS3, Angular, C#, SQL and ER/Class Diagram are essential
2 years of solid working experience in web based applications development
Proven experience with responsive designs
Hands-on experience in Oracle database development and mobile development will be an advantage
Hardworking and willing to learn
Self-motivated, problem solving and analytical skills
Good communication skills in both English and Chinese
Fresh graduates will be considered as Programmer
Application Method
We offer a competitive remuneration package and full range of benefit.
Interested parties please submit your cover letter and resume to us via post, email or fax to People Department.
Post: 11 Catering Road East, Hong Kong International Airport, Lantau, Hong Kong
Email: recruitment@cpcs.com.hk
Fax: (852) 2116 0523