PIP
Recruitment Talks
CINTEC held 12 recruitment talks in October and November, companies included HACTL, GP Electronics, Hong Kong Disneyland and more. Work study promotion and more recruitment talks will be held in next term.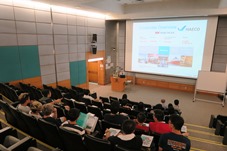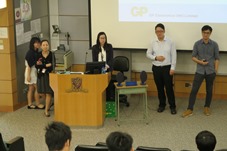 Thales Arduino Workshop
CINTEC worked with Thales Group to organize a workshop for CUHK students on 7 October 2016. Experts from Thales taught 24 participants the basics about Arduino programming. The participants were divided into teams to build a Thales-inspired project using Arduino and a promotional video, to compete against students from other universities across Hong Kong and the chance to compete against teams across different countries.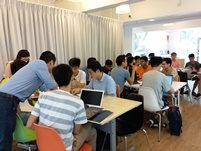 EXHIBITION
Hong Kong Electronics Fair (Autumn Edition) 2017
During 13-16 October 2017, CINTEC coordinated CUHK's participation in Hong Kong Electronics Fair (Autumn Edition) at Hong Kong Convention and Exhibition Centre. Four research projects were showcased: Efficient Mapping Algorithms for 360-degree, Optimized 3D Images, Virtual campus system and EduVenture® VR.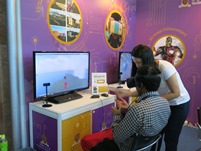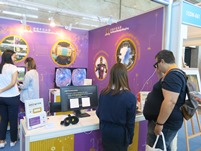 Global Sources 2017 Autumn Electronics Show
CUHK's inventions in robotics and students' projects were showcased at Hall 11, Asia-World Expo, from 18-21 October, 2017. With CINTEC's coordination, 3 research projects were showcased in the booth provided by Global Sources.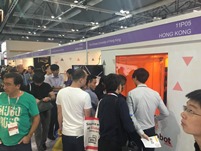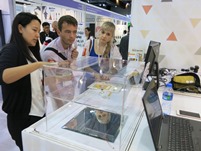 InnoCarnival 2017
CINTEC coordinates CUHK's participation in InnoCarnival, which is hosted by Innovation and Technology Commission at Hong Kong Science Park in every year. This year, it was held on 21-29 October 2017, apart from the main booth, CUHK also had two more booths – 'ITSC' and 'Fusion Between Chinese Cultural Arts & Robotics – 六藝機械人帝國'.
We showcased 12 research projects in total. A press conference was held to promote one of the research projects, 'Self-Running and Self-Floating Levitation Actuator' on 9 October 2017, which is developed by Prof. GUO Ping, Department of Mechanical and Automation Engineering.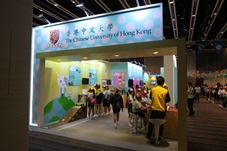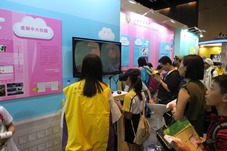 CUHK ACTIVITY
STEM Workshop for Foshan students
CINTEC coordinated with World Class Arena to provide the captioned workshop to more than 170 Foshan secondary school students and teachers on 4 November 2017.
Participants were able to learn programming, 3D printing and build a robot in the workshop. Campus tour was also arranged for participants to know more about CUHK.
OUTREACH ACTIVITY
Korean Startup Pitching Roadshow
Prof. K.F. Wong, Director of CINTEC, attended the Korean Startup Pitching Roadshow in PMQ on 5-6 November 2017. Teams from Korea came to Hong Kong to conduct a startup pitching roadshow. Prof. Wong gave advice to the teams.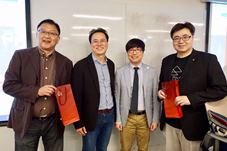 Visit to Wuyi University, Jiangmen

Prof. K.F. Wong was invited by Wuyi University to visit and deliver a talk on 7-8 November 2017. Prof. Wong presented a talk about entrepreneurship and explored possible collaboration opportunities with Department of Computer Science, Wuyi University.
ITSC
InnoCarnival 2017
As abovementioned, ITSC also participated in InnoCarnival 2017. This year, visitors can experience 3D printing from drawing, slicing to printing in ITSC DIY 3D Printing Corner under the instructions of ITSC members. Moreover, ITSC committee members designed a game "3D Printing RC Cars" for visitors. Two projects '穿戴式裝置' and '智能盆栽' from Hong Kong True Light College were showcased.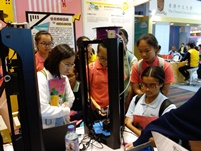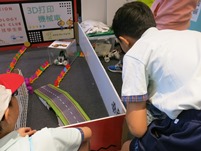 ARTICLES
Prof. K.F. Wong, Director of CINTEC wrote review or commentary articles for different newspaper:
2017-10-01: "深港創科合作 兩地企業汰弱留強" ,星島日報 A18 《來論》
2017-10-16: "科技與體制創新同樣重要",信報 B12 《專家之言》
2017-10-22: "創科政策 助長港環球競爭力" ,星島日報 A11 《來論》
2017-11-5: "促進創科產業 科技與體制創新皆重要" ,星島日報 A12 《來論》
2017-11-27: "社企不能忽略持續性",信報 B11 《專家之言》
2017-11-28: "公共政策 監管人工智能發展",星島日報 A16 《來論》
2017-11月至12月: "多管齊下 力推香港發展智慧城市" ,紫荊論壇第36期 (p.82-85)