PIP
Recruitment Talks
In January, second term just started, 6 recruitment talks were held, included Hong Kong Air Cargo Terminals Limited, Asia Satellite Telecommunications Co Ltd, PCCW Solutions for various opportunities. More talks will be held in the coming months.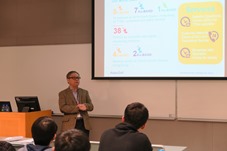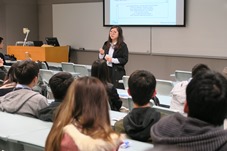 Industrial sharing by J.P. Morgan
Prof. C.H. Cheng, Deputy Director of CINTEC, invited Mr. Richard Leung of J.P. Morgan to give a sharing session in ENGG2601 class to all Year 2 students. Mr. Leung also introduced current internship openings in J.P. Morgan to students.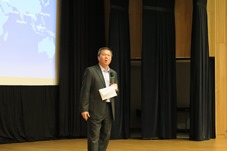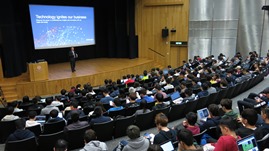 CUHK ACTIVITY
CUSCS Seminar
Prof. K.F. Wong gave a talk, titled '產學研之間的合作' to a Programme for the Administrative Staff of Shenzhen University on 8 December 2016.
Academia International Conference on Economic and Financial Cooperation: Hong Kong and the World under the Belt and Road
The captioned conference organized by Central Policy Unit and Hong Kong Institute of Asia-Pacific Studies was held on 15-16 December 2016. Prof. K.F. Wong, was invited to be one of the speakers and presented the topic "Bridging the Belt and Road Digital Divide: A Comparative Study on Information Capacity between the Partner Economies along the Belt and Road".
Croucher Advanced Study Institute (Croucher ASI) on "Integration of Urban Science and Urban Informatics for Smart Cities"
Prof. Wong joined the Opening Ceremony of the Croucher ASI which was held on 10-12 January at Yasumoto International Academic Park, The Chinese University of Hong Kong.
OUTREACH ACTIVITY
RTHK Radio 3 "Backchat"
Prof. K.F. Wong was the guest of Backchat on RTHK Radio 3 on 5 January 2017 and talked about Lok Ma Chau Loop Technology Park.
Link: http://programme.rthk.org.hk/channel/radio/programme.php?name=radio3/backchat&d=2017-01-05&p=514&e=407185&m=episode
6 ARTS
Opening ceremony of "Fusion between Chinese Cultural Arts and Robotics (Phase 3)" cum Hong Kong Tech Challenge Game 2016 Briefing Session 「科技顯六藝」(第三期) 啟動禮 暨 香港工程挑戰賽2016 簡介會
Opening ceremony of "Fusion between Chinese Cultural Arts and Robotics (Phase 3)" was held on 7 January 2017. In Phase 3, more than 80 primary and secondary schools joined our project. Dr. K.K. chan (Deputy Secretary for Education) attended the ceremony and gave a speech to support us. 4 guests were invited to share their experience learning from robotics and VEX.
Besides, HKTC 2016 will be held on 11-12 February 2017 in Science Park. There will be more than 130 teams participating in the competition. Champion of HKTC will have the opportunity to represent Hong Kong to join VEX world competition in the United States.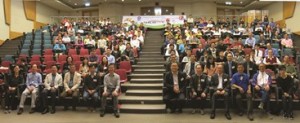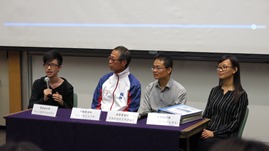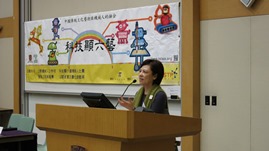 ITSC
Winter Camp 2016
ITSC organized a winter camp for members during 29-31 December 2016 themed "Biomedical Engineering: Give me a 'helping hand'". More than 30 participants joined this 3-day event and experienced different activities, such as 3D printing workshop, sharing by Mr. Mike Li (founder of Hong Kong Maker Club), installing a 3D printed prosthetic and knowledge about biomedical engineering.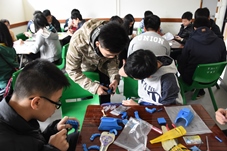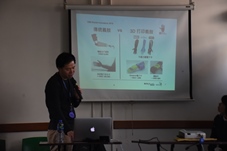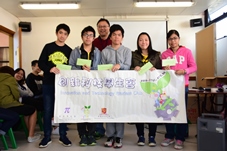 ARTICLES
Prof. K.F. Wong, Director of CINTEC wrote review or commentary articles for different newspaper:
2016-12-09: "AI+ 互聯網 必須智情俱備" ,信報 B16 《專家之言》
2016-12-19: "「長尾」藏創新 大企業能享" ,信報 B12 《經營智慧》
2016-12-21: "制訂科普KPI 提升港人創科素質" ,星島日報 A19 《來論》
2016-12-27: "搜集、準備及評估問題 「大數據」挑戰重重" ,星島日報 A8 《來論》
2016-12-31: "下任特首應當重視創科" ,大公報
2017-01-04: "線上線下互動 智能商務關鍵" ,信報 B11 《專家之言》
2017-01-07: "港深河套合作發展 兩地相得益彰" ,星島日報 A12 《來論》
2017-01-13: "2016年十大香港創新科技事件" ,信報 B12 《專家之言》
2017-01-22: "噪音、私隱、黑客 飛機無綫網絡保安漏洞" ,星島日報 A13 《來論》
2017-01月至02月: "香港科技創新發展方向與建議" ,紫荊論壇第31期