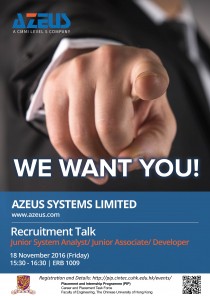 Date: 18 Nov, 2016 (Friday)
Time: 3:30 – 4:30 pm

Venue: Room 1009, William MW Mong Engineering Building
Registration will be closed at 11:00, 18 Nov., 2016. Those who are not registered may try to walk in on a first-come, first-served basis.
Looking for a bright career, not just a position? Azeus Systems Limited is your place!
Come and check out how you can kick off your journey to becoming an IT professional with Azeus. We provide comprehensive training to equip you upon job commencement.
About Azeus
Azeus is a leading IT services provider in the Asia Pacific region established in 1991 by a group of MIT graduates. We provide design and implementation of complex total IT solutions services to both public and private sectors.
Azeus is the first company accredited with CMM Level 5 in Greater China and the first company in Hong Kong attained CMMI Level 5.
Explore more about Azeus Systems Limited at www.azeus.com.
Enquiry:
Tel: 3943 8222 / 3943 8221
Email: job@cintec.cuhk.edu.hk