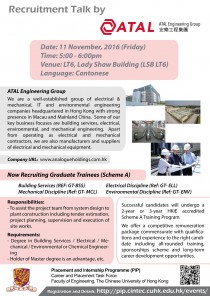 Date: 11 Nov, 2016 (Friday)
Time: 5:00 – 6:00 pm

Venue: LT6, Lady Shaw Building
Language: Cantonese
Registration will be closed at 11:00, 11 Nov., 2016. Those who are not registered may try to walk in on a first-come, first-served basis.
ATAL Engineering Group
We are a well-established group of electrical & mechanical, IT and environmental engineering companies headquartered in Hong Kong with strong presence in Macau and Mainland China.  Some of our key business focuses are building services, electrical, environmental, and mechanical engineering.  Apart from operating as electrical and mechanical contractors, we are also manufacturers and suppliers of electrical and mechanical equipment.
Now Recruiting
Graduate Trainees (Scheme A)
Successful candidates will undergo a 2-year or 3-year HKIE accredited Scheme A Training Program.
- Building Services (REF: GT-BSS)
- Electrical Discipline (Ref: GT- ELL)
- Mechanical Discipline (Ref: GT- MCL)
-Environmental Discipline (Ref: GT- ENV)
Responsibilities:
- You will be given the opportunities to assist the project team from system design to plant construction including tender estimation, project planning, supervision and execution of site works.
Requirements:
- Degree in Building Services / Electrical / Mechanical / Environmental or Chemical Engineering
- Holder of Master degree an advantage
- Good command of both written & spoken English & Chinese
- Excellent communication and interpersonal skills
- Self-initiative, proactive, energetic and strong sense of responsibility
If you have a strong desire for a challenging career, please apply by sending full resume through one of the following means:
By email to hr@analogue.com.hk
By mail to 'The Human Resources Department, 13/F, Island Place Tower, No. 510 King's Road, North Point, Hong Kong'
(Please quote employer's reference number on your application letter)
We offer a competitive remuneration package commensurate with qualifications and experience to the right candidate including all-rounded training, sponsorships scheme and long-term career development opportunities.
Please visit our website at www.analogueholdings.com.hk for more information about us.
Personal data collected will be treated in strictest confidentiality and used for recruitment related purposes only.  We will retain your application and may refer it to other vacancies within the Group.
Enquiry:
Tel: 3943 8222 / 3943 8221
Email: job@cintec.cuhk.edu.hk