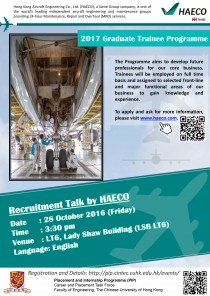 Date: 28 Oct, 2016 (Friday)
Time: 3:30 – 4:30 pm

Venue: LT6, Lady Shaw Building
Language: English
Registration will be closed at 11:00, 28 Oct., 2016. Those who are not registered may try to walk in on a first-come, first-served basis.
Hong Kong Aircraft Engineering Co., Ltd. (HAECO), a Swire Group company, is one of the world's leading independent aircraft engineering and maintenance groups providing 24-hour Maintenance, Repair and Overhaul (MRO) services.
2017 Graduate Trainee Programme
The Programme aims to develop future professionals for our core business. Trainees will be employed on full time basis and assigned to selected front-line and major functional areas of our business to gain knowledge and experience.
To apply and ask for more information, please visit www.haeco.com.
Enquiry:
Tel: 3943 8222 / 3943 8221
Email: job@cintec.cuhk.edu.hk