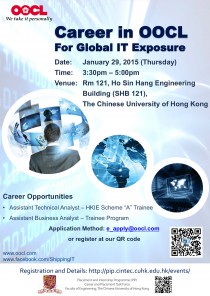 Date: 29 Jan., 2015 (Thu)
Time: 3:30 – 5:00 pm
Venue: Rm 121, Ho Sin Hang Engineering Building [SHB 121]

Registration will be closed at 11:00, 29 Jan., 2015. Those who are not registered may try to walk in on a first-come, first-served basis.
About OOCL
Orient Overseas Container Line Ltd (OOCL) is a leading international container transport and logistics service provider, operating from more than 350 offices in 65 countries around the world. As a customer-focused organization we embrace quality standards, utilizing the most advanced information technology and e-Commerce platforms in the industry.
OOCL has long been recognized as the industry leader in developing and providing IT solutions for both container transportation customers and logistics customers. We are also the pioneer in the provision of IT solutions for other industry players through our advanced systems and portals.
In 2009, OOCL was certified by The Hong Kong Institution of Engineers (HKIE) to run the Scheme "A" – Information Engineering program in our company. This program provides the young talents with a nourishing ground for them to become a seasoned IT professional through a structured and comprehensive training program while pursuing a professional qualification.
Jobs Openings
Full Time Positions
Assistant Technical Analyst – HKIE Scheme "A" Trainee
Assistant Business Analyst – Trainee Program
Intern Position
For more job openings and details, please visit www.oocl.com.
Enquiry:
Tel: 3943 8222 / 3943 8221
Email: job@cintec.cuhk.edu.hk