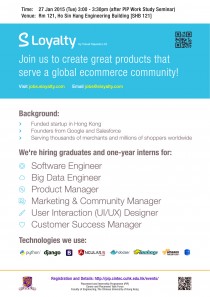 Date: 27 Jan., 2015 (Tue)
Time: 3:00 – 3:30 pm
Venue: Rm 121, Ho Sin Hang Engineering Building [SHB 121]

Language: Cantonese / English
Registration will be closed at 11:00, 27 Jan., 2015. Those who are not registered may try to walk in on a first-come, first-served basis.
About S Loyalty (an ecommerce tech startup)
S Loyalty is a funded and growing startup building next generation global ecommerce marketing and loyalty solutions. Our products have been used globally by thousands of online merchants including those from North America, Europe and Asia. Join us to help democratize ecommerce for merchants around the world!
S Loyalty was founded by Stanford graduates who have previously worked at companies such as Google and Salesforce.com in Silicon Valley. We are a fast growing company that offers incredible career growth opportunities.
For more job and application details, please visit jobs.sloyalty.com.
Jobs Openings
We're hiring graduates and one-year (work study) interns for:
To learn more about us, come and join us at our Recruitment Talk!
Enquiry:
Tel: 3943 8222 / 3943 8221
Email: job@cintec.cuhk.edu.hk