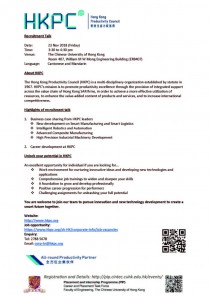 Date: 23 Nov 2018 (Friday)
Time: 3:30 – 4:30 pm

Venue: Rm 407, William M W Mong Engineering Building (ERB 407)
Language: Cantonese & Mandarin
Registration will be closed at 11:00, 23 Nov 2018. Those who are not registered may try to walk in on a first-come, first-served basis.
About HKPC
The Hong Kong Productivity Council (HKPC) is a multi-disciplinary organization established by statute in 1967. HKPC's mission is to promote productivity excellence through the provision of integrated support across the value chain of Hong Kong SAR firms, in order to achieve a more effective utilization of resources, to enhance the value-added content of products and services, and to increase international competitiveness.
Highlights of recruitment talk
1. Business case sharing from HKPC leaders
- New development on Smart Manufacturing and Smart Logistics
- Intelligent Robotics and Automation
- Advanced Composite Manufacturing
- High Precision Industrial Machinery Development
2. Career development at HKPC
Unlock your potential in HKPC
An excellent opportunity for individual if you are looking for…
- Work environment for nurturing innovative ideas and developing new technologies and applications
- Comprehensive job trainings to widen and sharpen your skills
- A foundation to grow and develop professionally
- Positive career progression for performers
- Challenging assignments for unleashing your full potential
You are welcome to join our team to pursue innovation and new technology development to create a smart future together.
Website:
Job opportunity:
https://www.hkpc.org/zh-HK/corporate-info/job-vacancies
Enquiry:
Tel: 2788 5678
Email: corp-hr@hkpc.org