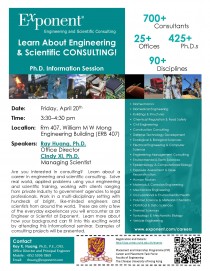 Date: 20 April 2018 (Friday)
Time: 3:30 – 4:30 pm

Venue: Rm 407, William M W Mong Engineering Building (ERB 407)
Registration will be closed at 11:00, 20 Apr 2018. Those who are not registered may try to walk in on a first-come, first-served basis.
About the Talk
Speakers:
Ray Huang, Ph.D., Office Director of Exponent
Cindy Xi, Ph.D., Managing Scientist of Exponent
Are you interested in consulting? Learn about a career in engineering and scientific consulting. Solve real world, applied problems using your engineering and scientific training, working with clients ranging from private industry to government agencies to legal professionals. Work in a multi-disciplinary setting with hundreds of bright, like-minded engineers and scientists from around the world. These are only a few of the everyday experiences you will encounter as an Engineer or Scientist at Exponent. Learn more about how your background can fit into this exciting world by attending this international seminar. Examples of consulting projects will be presented.
For more details, please visit www.exponent.com/careers
Contact Person
Ray K. Huang Ph.D., P.E., CFEI
Office Director and Principal Engineer
Mobile: (852) 5596 7869
Email: rhuang@exponent.com
Enquiry:
Tel: 3943 8222 / 3943 8221
Email: job@cintec.cuhk.edu.hk