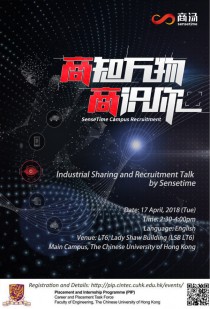 Date: 17 April 2018 (Tuesday)
Time: 2:30 – 4:00 pm

Venue: LT6, Lady Shaw Building (LSB LT6)
Registration will be closed at 11:00, 17 Apr., 2018. Those who are not registered may try to walk in on a first-come, first-served basis.
SenseTime is now offering many job opportunities to PhD students. Don't miss the chances.
About SenseTime:
Valued above USD 2 billion, SenseTime is China's largest artificial intelligence (AI) company focused on computer vision and deep learning technologies.
The developer behind China's only proprietary deep learning platform, SenseTime has become the largest algorithm supplier in the country. The company is dedicated to creating an AI ecosystem with innovation and solutions to upgrade the industries.
Besides from its technological strengths, SenseTime has achieved commercial successes. It has powered many industries such as finance, security, smart phone, mobile Internet, robotics, and automobile with core computer vision technologies including face recognition, video analysis, character recognition, and autonomous driving. SenseTime boasts more than 400 leading customers and strategic partners including Qualcomm, NVIDIA, China Mobile, UnionPay, HNA, Huawei, Xiaomi, OPPO, vivo, Weibo, and iFLYTEK.
Following its latest US$410 million series B round of financing (which set the then record for a single round of funding in the AI field), SenseTime has allocated more resources to developing autonomous driving, intelligent medical treatment, and deep learning computer chips. It will also strengthen its technology platform and attract more talent to open up greater applications scenarios and a SenseTime-driven AI commercial ecosystem.
With offices in Hong Kong, Beijing, Shenzhen, Shanghai, Chengdu, Hangzhou, Kyoto, and Tokyo, SenseTime has attracted top talents around the world to build a world-leading technology company – from China, for the world.
For more information, please go to:www.sensetime.com
Positions:
Researcher/Researcher Intern
Researcher/Research Intern, Computer Vision
Researcher/Research Intern, Language and Vision
Researcher/Research Intern, 3D Vision/Computer Graphics
Medical Imaging Analysis/Deep learning Intern
Medical Imaging Analysis/ Software Engineer
MPI/GPU/RDMA Optimization Scientist /Intern
How to apply:
Please go to:http://hr.sensetime.com/home
Follow"SenseTime商汤招聘"(ID:sensetalent) on Wechat.
Enquiry:
Tel: 3943 8222 / 3943 8221
Email: job@cintec.cuhk.edu.hk