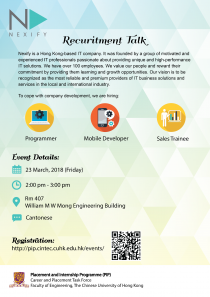 Date: 23 Mar., 2018 (Friday)
Time:
2:00 – 3:00 pm
Venue: Room 407, William M.W. Mong Eng. Bldg. (ERB 407)
Language: Cantonese
Registration will be closed at 11:00, 23 Mar., 2018. Those who are not registered may try to walk in on a first-come, first-served basis.
Highlights of the talks
Introduction of Nexify Limited
Details about the Jobs Opening
Experience sharing by CUHK Graduates
Speakers
Directors from Sales Department & Technical Department
About Nexify Limited
Nexify is a Hong Kong-based IT company. It was founded by a group of motivated and experienced IT professionals passionate about providing unique and high-performance IT solutions. We have over 100 employees. We value our people above all and reward their commitment by providing them learning and growth opportunities. Our vision is to be recognized as the most reliable and premium providers of IT business solutions and services in the local and international industry.
We're hiring:
Programmer
Mobile developer
Sales Trainee
Enquiry: 2151 2868
Email: hr@nexify.com.hk
Website: www.nexify.com.hk
Enquiry:
Tel: 3943 8222 / 3943 8221
Email: job@cintec.cuhk.edu.hk