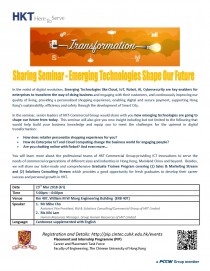 Date: 23 Mar., 2018 (Friday)
Time: 5:00 – 6:00 pm

Venue: Room 407, William M.W. Mong Eng. Bldg. (ERB 407)
Language: Cantonese supplemented with English
Registration will be closed at 11:00, 23 Mar., 2018. Those who are not registered may try to walk in on a first-come, first-served basis.
Speaker:
1.    Mr Mike Cho (Assistant Vice President, Business Solutions Consultancy/Commercial Group of HKT Limited)
2.    Ms Kiki Lam (Human Resources Manager, Group Human Resources of HKT Limited)
In the midst of digital revolution, Emerging Technologies like Cloud, IoT, Robot, AI, Cybersecurity are key enablers for enterprises to transform the way of doing business and engaging with their customers, and continuously improving our quality of living, providing a personalized shopping experience, enabling digital and secure payment, supporting Hong Kong's sustainability, efficiency and safety through the development of Smart City.
In the seminar, senior leaders of HKT-Commercial Group would share with you how emerging technologies are going to shape our future from today.  This seminar will also give you new insight including but not limited to the following that would help build your business knowledge and equip you to meet the challenges for the uptrend in digital transformation:
How does retailer personalize shopping experience for you?
How do Enterprise IoT and Cloud Computing change the business world for engaging people?

Are you chatting online with Robot? And even more…
You will learn more about the professional teams of HKT-Commercial Group providing ICT innovations to serve the needs of commercial organizations of different sizes and industries in Hong Kong, Mainland China and beyond.  Besides, we will share our tailor-made and comprehensive Graduate Trainee Program covering (1) Sales & Marketing Stream and (2) Solutions Consulting Stream which provides a good opportunity for fresh graduates to develop their career success and personal growth in HKT.
Enquiry:
Tel: 3943 8222 / 3943 8221
Email: job@cintec.cuhk.edu.hk