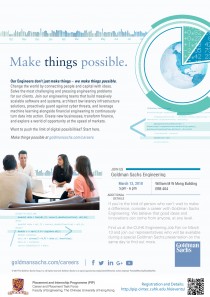 Date: 13 Mar., 2018 (Tuesday)
Time: 5:00 – 6:00 pm

Venue: Room 404, William M.W. Mong Eng. Bldg. (ERB 404)
Registration will be closed at 11:00, 13 Mar., 2018. Those who are not registered may try to walk in on a first-come, first-served basis.
Presence at CUHK Engineering Job Fair 2018
Date: 13 March 2018 (Tue)
Time: 11am – 5pm
Venue: Ho Sin-Hang Engineering Building – SHB 6/F
Info Session/Presentation by Goldman Sachs Engineering
Date: 13 March 2018 (Tue)
Time: 5 – 6pm
Venue: William M W Mong Engineering Building – ERB 404
Language: English
If you're the kind of person who can't wait to make a difference, consider a career with Goldman Sachs Engineering. We believe that good ideas and innovations can come from anyone, at any level. Find us at the CUHK Engineering Job Fair on March 13 and join our representatives who will be available during a special Goldman Sachs presentation on the same day to find out more.
What We Do
At Goldman Sachs, our Engineers don't just make things – we make things possible. Change the world by connecting people and capital with ideas. Solve the most challenging and pressing engineering problems for our clients. Join our engineering teams that build massively scalable software and systems, architect low latency infrastructure solutions, proactively guard against cyber threats, and leverage machine learning alongside financial engineering to continuously turn data into action. Create new businesses, transform finance, and explore a world of opportunity at the speed of markets.
Engineering, which is comprised of our Technology Division and global strategists groups, is at the critical center of our business, and our dynamic environment requires innovative strategic thinking and immediate, real solutions.  Want to push the limit of digital possibilities?  Start here.
Make things possible at http://goldmansachs.com/careers .
Learn more about Goldman Sachs Engineering: http://gs.com/engineering
Enquiry:
Tel: 3943 8222 / 3943 8221
Email: job@cintec.cuhk.edu.hk