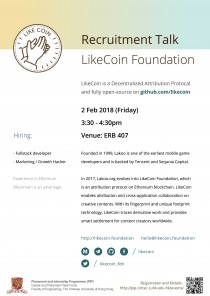 Date: 2 Feb., 2018 (Friday)
Time: 3:30 – 4:30 pm

Venue: Room 407, William M.W. Mong Eng. Bldg. (ERB 407)
Registration will be closed at 11:00, 2 Feb., 2018. Those who are not registered may try to walk in on a first-come, first-served basis.
LikeCoin Foundation
LikeCoin is a Decentralized Attribution Protocal and fully open-source on github.com/likecoin
Founded in 1999, Lakoo is one of the earliest mobile game developers and is backed by Tencent and Sequoia Capital. In 2017, Lakoo.org evolves into LikeCoin Foundation, which is an attribution protocol on Ethereum blockchain. LikeCoin enables attribution and cross-application collaboration on creative contents. With its fingerprint and unique footprint technology, LikeCoin traces derivative work and provides smart settlement for content creators worldwide.
Hiring:
Fullstack developer
Marketing / Growth Hacker
Experience in Ethereum, Blockchain is an advantage
http://likecoin.foundation
hello@likecoin.foundation
Enquiry:
Tel: 3943 8222 / 3943 8221
Email: job@cintec.cuhk.edu.hk