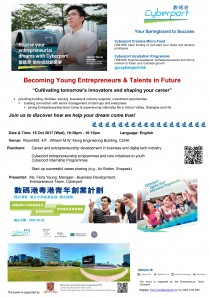 Date: 18 Oct., 2017 (Wednesday)
Time: 4:30 – 6:15 pm

Venue: Room 405, William M.W. Mong Eng. Bldg. (ERB 405)
Language: English
Registration will be closed at 11:00, 18 Oct., 2017. Those who are not registered may try to walk in on a first-come, first-served basis.
Becoming Young Entrepreneurs & Talents in Future
"Cultivating tomorrow's innovators and shaping your career"
providing funding, facilities, training, business & industry supports, investment opportunities
building connection with senior management of start-ups and enterprises
joining Entrepreneurship Boot Camp & experiencing internship life in Silicon Valley, Shanghai and HK
Join us to discover how we help your dream come true!
Rundown:
Career and entrepreneurship development in business and digital tech industry
Cyberport entrepreneurship programmes and new initiatives to youth
Start-up successful cases sharing (e.g., Air Button, Snapask)
Presenter: Ms. Flora Yeung, Manager – Business Development, Entrepreneurs Team, Cyberport
Enquiry:
Tel: 3943 8222 / 3943 8221
Email: job@cintec.cuhk.edu.hk