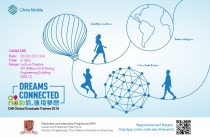 Date: 20 Oct., 2017 (Friday)
Time: 2:00 – 3:00 pm

Venue: Lecture Theatre, William M.W. Mong Eng. Bldg. (ERB LT)
Registration will be closed at 11:00, 20 Oct., 2017. Those who are not registered may try to walk in on a first-come, first-served basis.
Good news!
China Mobile International GGT 2018 Campus Career Talks are coming soon!
Are you ready?
New term has started for one month, are you still full of enthusiasm?
Any plan for your upcoming school life?
Our campus career talks will be held in Hong Kong from 19th Oct 2018 – 31st Oct 2018.
We'll tell you all about who we are and how you can be to make your dreams come true!
Click the link and check out our campus career talk schedule and details.
http://ggt.cmi.chinamobile.com/
You're welcome to come and communicate with us face to face.
Your joining makes us closer! Let's get Dreams Connected !
#dreamsconnected
#chinamobileinternational
#cmi
#cmiggt2018
#graduatetrainee
Enquiry:
Tel: 3943 8222 / 3943 8221
Email: job@cintec.cuhk.edu.hk