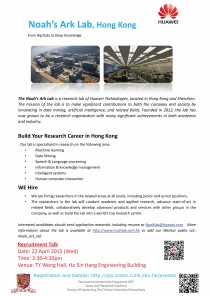 Date: 22 Apr., 2015 (Wednesday)
Time: 3:30 – 4:30 pm
Venue: T.Y. Wong Hall LT, 5/F Ho Sin Hang Engineering Building (TYW LT)
Registration will be closed at 11:00, 22 Apr., 2015. Those who are not registered may try to walk in on a first-come, first-served basis.
Title: Recent Advances in Research at Noah's Ark Lab
Abstract:
The Noah's Ark Lab is a research lab of Huawei Technologies, located in Hong Kong and Shenzhen. The mission of the lab is to make significant contributions to both the company and society by innovating in data mining, artificial intelligence, and related fields. In this talk, three speakers will introduce some of the achievements in research obtained by the lab recently.  First, Dr. Hang Li will give a high level introduction to the research areas, as well as the research projects in the lab. Next, Dr. Zhengdong Lu will talk about the deep learning technologies developed for natural language processing. Then, Dr. Jiefeng Cheng will explain the VENUS system, which is a graph computation platform for data mining from large-scale graphs.
Speakers:
Hang Li is director of the Noah's Ark Lab of Huawei Technologies. His research areas include information retrieval, natural language processing, statistical machine learning, and data mining.
Zhengdong Lu is a senior researcher in the Noah's Ark Lab. His main research areas are machine learning and natural language processing.
Jiefeng Cheng is a researcher at the Noah's Ark Lab. His current research area is graph mining and management. He earned his PhD in computer science from the Chinese University of Hong Kong.
Enquiry:
Tel: 3943 8222 / 3943 8221
Email: job@cintec.cuhk.edu.hk