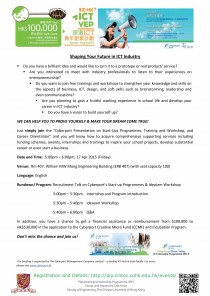 Date: 17 Apr., 2015 (Friday)
Time: 5:00 – 6:00 pm
Venue: Rm 407, William M.W. Mong Eng. Bldg. (ERB 407)
Langugae: English
Registration will be closed at 11:00, 17 Apr., 2015. Those who are not registered may try to walk in on a first-come, first-served basis.
Shaping Your Future in ICT Industry
– Do you have a brilliant idea and would like to turn it to a prototype or real product/ service?
– Are you interested to meet with industry professionals to listen to their experiences on entrepreneurship?
– Are you planning to gain a fruitful working experience in school life and develop your career in ICT industry?
– Do you have a vision to build yourself up?
WE CAN HELP YOU TO PROVE YOURSELF & MAKE YOUR DREAM COME TRUE!
Just simply register the "Cyberport Presentation on Start-Ups Programmes and Career Orientation" and you will know how to acquire comprehensive supporting services including funding schemes, awards, internships and trainings to inspire the school project, develop substantial career or even start a business.
Rundown:
5:00pm – 5:30pm Internship and Program Introduction
5:30pm – 5:40pm IdeaJam Workshop
5:51pm – 6:00pm Q&A
In addition, you have a chance to get a financial assistance or reimbursement from $100,000 to HK$530,000 in the application to the Cyberport Creative Micro Fund (CCMF) and Incubation Program. Don't miss the chance and join us!
The briefing is organized by The Cyberport Management Company Limited – a leading ICT hub in Asia Pacific. For more, please visit www.cyberport.hk
Enquiry:
Tel: 3943 8222 / 3943 8221
Email: job@cintec.cuhk.edu.hk