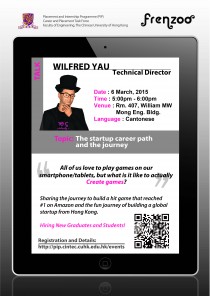 Date: 6 Mar., 2015 (Fri)
Time: 5:00 – 6:00 pm
Venue: Rm 407, William MW Mong Engineering Building [ERB 407]

Language: Cantonese
Registration will be closed at 11:00, 6 Mar., 2015. Those who are not registered may try to walk in on a first-come, first-served basis.
Topic: The startup career path and the journey
Speaker: Mr. Wilfred Yau (Technical Director)
"All of us love to play games on our smartphone/tablets, but what is it like to actually Create games?
Sharing the journey to build a hit game that reached #1 on Amazon and the fun journey of building a global startup from Hong Kong.
Hiring New Graduates and Students!
Enquiry:
Tel: 3943 8222 / 3943 8221
Email: job@cintec.cuhk.edu.hk