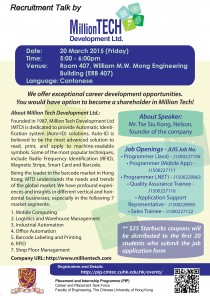 Date: 20 Mar., 2015 (Friday)
Time: 5:00 – 6:00 pm
Venue: Rm 407, William M.W. Mong Eng. Bldg.(ERB 407)
Language: Cantonese
Registration will be closed at 11:00, 20 Mar., 2015. Those who are not registered may try to walk in on a first-come, first-served basis.
We offer exceptional career development opportunities. You would have option to become a shareholder in Million Tech!
About Million Tech Development Ltd.:
Founded in 1987, Million Tech Development Ltd (MTD) is dedicated to provide Automatic Identification system (Auto-ID) solutions. Auto-ID is believed to be the most advanced solution to read, print, and apply to machine-readable symbols. Some of the most popular techniques, include Radio Frequency Identification (RFID), Magnetic Stripe, Smart Card and Barcode.
Being the leader in the barcode market in Hong Kong, MTD understands the needs and trends of the global market. We have profound experiences and insights in different vertical and horizontal businesses, especially in the following 7 market segments:
Mobile Computing
Logistics and Warehouse Management
Industrial Automation
Office Automation
Barcode Labeling and Printing
RFID
Shop Floor Management
Speaker
Mr. Tse Siu Kong, Nelson, founder of the company
Job Openings – JIJIS Job No.
Programmer (Java) – J1500227106
Programmer (Mobile App) –  J1500227111
Programmer (.NET) – J1500228963
Quality Assurance Trainee -   J1500227116
Application Support   Representative – J1500228965
Sales Trainee – J1500227122
** $25 Starbucks coupons will be distributed to the first 20 students who submit the job application form
Company URL: http://www.milliontech.com
Enquiry:
Tel: 3943 8222 / 3943 8221
Email: job@cintec.cuhk.edu.hk