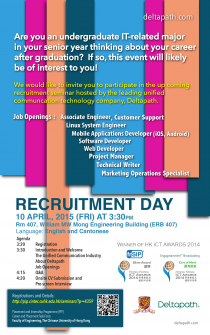 Date: 10 Apr., 2015 (Friday)
Time: 3:30 – 4:30 pm
Venue: Rm 407, William M.W. Mong Eng. Bldg.(ERB 407)
Language: English & Cantonese
Registration will be closed at 11:00, 10 Apr., 2015. Those who are not registered may try to walk in on a first-come, first-served basis.
Are you an undergraduate IT-related major in your senior year thinking about your career after graduation? If so, this event will likely be of interest of you!
We would like to invite you to participate in the upcoming recruitment seminar hosted by the leading unified communication technology company, Deltapath.
Job Openings:
Associate Engineer, Customer Support
Linux System Engineer
Mobile Appilcations Developer (iOS, Android)
Software Developer
Web Developer
Project Manager
Technical Writer
Marketing Operations Specialist
deltapath.com
Enquiry:
Tel: 3943 8222 / 3943 8221
Email: job@cintec.cuhk.edu.hk