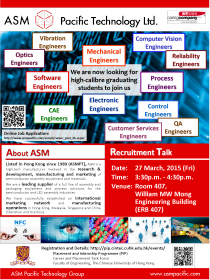 Date: 27 Mar., 2015 (Friday)
Time: 3:30 – 4:30 pm
Venue: Rm 407, William M.W. Mong Eng. Bldg.(ERB 407)
Registration will be closed at 11:00, 27 Mar., 2015. Those who are not registered may try to walk in on a first-come, first-served basis.
ASM Pacific Technology Ltd. is the world's leading assembly and packaging equipment supplier in the semiconductor industry.
ABOUT THE COMPANY:
Listed in Hong Kong since 1989 [ASMPT]. ASM is a high-tech manufacturer involved in the development, manufacturing and marketing of semiconductor assembly equipment and materials. Over the past 30 years, through the dedicated efforts of a high calibre team, we have successfully established an international marketing network and manufacturing operations in Hong Kong, Malaysia, Singapore and China (Shenzhen and Huizhou).
We are now looking for high-calibre graduating students to join us:
Mechanical Engineers, Software Engineers, Optics Engineer, CAE Engineers, Electronic Engineers, Customer Services Engineers, Process Engineers, Computer Vision Engineers, Reliability Engineers, Control Engineers, QA Engineers, Vibration Engineers
Job application website: http://www.asmpacific.com/asmpt/career_post_hk.aspx
Company URL: http://www.asmpacific.com/
Enquiry:
Tel: 3943 8222 / 3943 8221
Email: job@cintec.cuhk.edu.hk