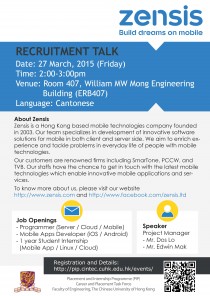 Date: 27 Mar., 2015 (Friday)
Time: 2:00 – 3:00 pm
Venue: Rm 407, William M.W. Mong Eng. Bldg.(ERB 407)
Language: Cantonese
Registration will be closed at 11:00, 27 Mar., 2015. Those who are not registered may try to walk in on a first-come, first-served basis.
About Zensis
Zensis is a Hong Kong based mobile technologies company founded in 2003. Our team specializes in development of innovative software solutions for mobile in both client and server side. We aim to enrich experience and tackle problems in everyday life of people with mobile technologies.
Zensis delivers advanced server solutions to enable edge-cutting mobile services for mobile network operators. We develop solutions for different mobile services and also integrate our solutions with customer's systems. Our customers are renowned firms including SmarTone, PCCW, and TVB. Our staffs have the chance to get in touch with the latest mobile technologies which enable innovative mobile applications and services.
Zensis is a member of Hong Kong Wireless Development Center. We have received awards including Hong Kong Industry Award (Technical Achievement), Hong Kong Wireless Technology Excellence Award (Infotainment), Cyberport 3G Award, IT Excellence Award etc.
To know more about us, please visit our website http://www.zensis.com andhttp://www.facebook.com/zensis.ltd
Job Openings
- Programmer (Server / Cloud / Mobile)
- Mobile Apps Developer (iOS / Android)
- 1 year Student Internship (Mobile App / Linux / Cloud)
Speaker
Mr. Dos Lo, Project manager
Mr. Edwin Mak, Project manager
Enquiry:
Tel: 3943 8222 / 3943 8221
Email: job@cintec.cuhk.edu.hk