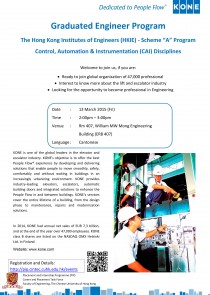 Date: 13 Mar., 2015 (Friday)
Time: 2:00 – 3:00 pm
Venue: Rm 407, William M.W. Mong Eng. Bldg.(ERB 407)
Language: Cantonese
Registration will be closed at 11:00, 13 Mar., 2015. Those who are not registered may try to walk in on a first-come, first-served basis.
Welcome to join us, if you are:
Ready to join global organization of 47,000 professional
Interest to know more about the lift and escalator industry
Looking for the opportunity to become professional in Engineering
KONE is one of the global leaders in the elevator and escalator industry. KONE's objective is to offer the best People Flow® experience by developing and delivering solutions that enable people to move smoothly, safely, comfortably and without waiting in buildings in an increasingly urbanizing environment. KONE provides industry-leading elevators, escalators, automatic building doors and integrated solutions to enhance the People Flow in and between buildings. KONE's services cover the entire lifetime of a building, from the design phase to maintenance, repairs and modernization solutions.
In 2014, KONE had annual net sales of EUR 7,3 billion, and at the end of the year over 47,000 employees. KONE class B shares are listed on the NASDAQ OMX Helsinki Ltd. in Finland.
Website: www.kone.com
Enquiry:
Tel: 3943 8222 / 3943 8221
Email: job@cintec.cuhk.edu.hk