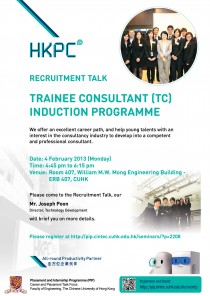 Date: 04 Feb., 2013 (Monday)
Time: 4:45 – 6:15 pm
Venue:

Rm 407, William M.W. Mong Engineering Building (ERB 407)



Registration will be closed at 11:00, 4 Feb., 2013. Those who are not registered may try to walk in on a first-come, first-served basis.
About the Company
The Hong Kong Productivity Council (HKPC) is a multi-disciplinary organization established by statute in 1967. HKPC's mission is to promote productivity excellence through the provision of integrated support across the value chain of Hong Kong firms, in order to achieve a more effective utilization of resources, to enhance the value-added content of products and services, and to increase international competitiveness.

Speaker Profile
Mr Joseph Poon, Director,Technology Development
Mr Joseph Poon has 30 years of experience in business and consulting. His portfolio spans from automotive, innovation, automation, intellectual property management, patent and trademark, intellectual capital management, to branding and Kaizen consulting.
Mr Poon held senior management position in a machinery manufacturing company prior to joining HKPC. He is currently committee member of the Brand Development Council, the Hong Kong Mould & Die Council, as well as Commercialization Committee of the Automotive Parts and Accessories R&D Centre which he played a pivotal role in its establishment in 2006.
Mr Poon obtained a Bachelor's degree in Mechanical Engineering from University of London, UK and a Master of Science degree in Production Management and Manufacturing Technology from Strathclyde University, UK. Mr Poon joined HKPC in 1986.
Trainee Consultant Programme
The aim of the Trainee Consultant Programme is to develop top-notch university graduates through professional on-the-job training to cope with the development of HKPC. Upon satisfactory completion of the Programme, the trainees will be appointed as Associate Consultants of our consulting teams to undertake consultancy projects in different expertise areas and contribute to productivity enhancement of industry.
Our expectations:
University graduate from recognized universities with outstanding academic results and background relevant to the work of HKPC; prior work experience is not essential
Exposure to multi-national culture a definite advantage (e.g. overseas exchange programme, etc.)
Innovative, analytical, self-motivated and eager to learn
Good interpersonal and communication skills
Good command of both written and spoken English and Chinese, including Putonghua
Starting Salary:
Monthly salary: HK$16,406
Applicants should apply through ONLINE "TRAINEE CONSULTANT" APPLICATION FORM
https://recruitment_form.hkpc.org/ on or before 10 March, 2013.
Enquiry:
Tel: 3943 8222 / 3943 8221
Email: job@cintec.cuhk.edu.hk