Technologies on Display

B4 - IP Multicast Initiative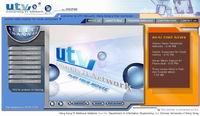 IP multicast is an emerging network technology for large-scale data distribution. Unlike the unicast transmission model currently employed in the Internet, IP multicast enables a sender to transmit data to an arbitrary number of receivers with the same constant resources at the server and significantly reduced resources at the backbone network. This project investigates new applications exploiting the benefits of IP multicast, such as video streaming and Internet TV broadcasting.
University Television Network (UTV) is the first and only inter-university online television channel in Hong Kong:
UTV was established in July 2002 and has since administrated by the Hong Kong IP Multicast Initiative (HKIPMI), an information technology working group co-sponsored by the Chinese University of Hong Kong, and the Innovation and Technology Fund of the Hong Kong SAR Government.
UTV aims at providing the best quality of entertainment within all university campus in Hong Kong, and ultimately, across the education strata which covers colleges, secondary and primary school, and other educational bodies in the region.
Our video archive is empowered by the Hong Kong Academy for Performing Arts, General Education Department of the Chinese University of Hong Kong, the Campus TV of the University of Hong Kong, etc.
With the contribution of our multimedia content providers, we are proud to bring our audience a wide variety of programs and highlights, including Dramas, Campus news, Reading clubs gatherings, Movies, Musicals, Other performance and live events.
Website
http://www.hkipmulticast.org
http://www.utv.edu.hk
Principal Investigator
Prof. Y. B. Lee
Department of Information Engineering

¡@