Technologies on Display

A4 - Virtual Acupuncture
Traditionally, acupuncture students have to practice on real patients, which may risk the health of patients. This project aims at developing an intelligent virtual environment for Chinese acupuncture learning and training using state-of-the-art virtual reality technology. Students can learn and practice acupuncture in the 3D interactive virtual environment that supports force feedback interface for needle insertion. By so doing, students not only ˇ§seeˇ¨ but also ˇ§touchˇ¨ the virtual patient. With the high performance computers, highly informative and flexible visualization of acupuncture points of various related meridian and collateral can be highlighted to guide the students during training.
Applications
Complete 3D acupuncture atlas
Digital human modeling and research
Acupuncture education and training
Features
3D interactive and realistic virtual environment
Acupuncture practice with realistic, bi-directional force feedback
Layer by layer anatomical visualization
Multiple learning modes to facilitate flexible and efficient learning
Website
http://www.cse.cuhk.edu.hk/~crc/
Principal Investigator
Prof. P. A. Heng
Department of Computer Science and Engineering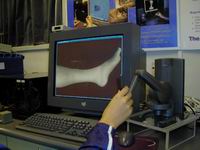 The system tracks the virtual needle and provides force feedback through the PhanToM Desktop. We model the force during acupuncture as a bi-directional force.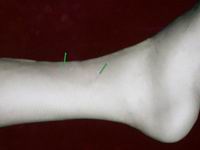 A screen shot showing how needles are inserted on the virtual leg.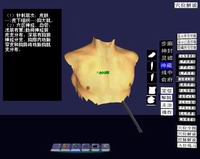 User can make use of virtual pointer to select interested meridian and acupuncture point from the 3D menus.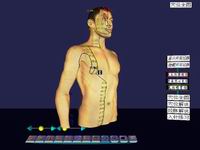 User can also visualize the flow of an interested meridian. All acupuncture points on this meridian are then shown.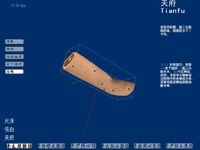 Locating acupuncture point on the skin surface.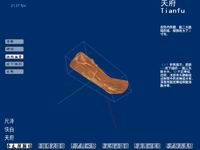 The same acupuncture point visualized with the outermost skin surface removed.
ˇ@