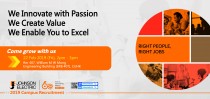 Date: 22 Feb 2019 (Friday)
Time: 2:00 – 3:00 pm

Venue: Rm 407, William M W Mong Engineering Building (ERB 407)
Please register via the link https://goo.gl/forms/OCN8SxHpQD5mD20a2.
*Interview Fast Pass will be offered during the Talk session*
Registration will be closed at 16:00, 21 Feb 2019. Those who are not registered may try to walk in on a first-come, first-served basis.
About the Company
Johnson Electric is a world leader in motion products, control systems and flexible interconnects, serving a broad range of industries including Automotive, Smart Metering, Medical Devices and Home Automation etc.  With sales revenue of US$3.2 billion generated in FY 2017/2018, we are now operating in 23 countries with over 40,000 employees across the globe. The Group has been listed on the Stock Exchange of Hong Kong since 1984.
It has always been our mission to attract great people and to nurture Engineering elites for the future.  We would like to invite you to join our Recruitment talk where more details of our exciting career opportunities will be shared.
What we offer:
·         Opportunity to work for a fast-growing global organization
·         Learning opportunity for students to acquire advanced technical skills at work place
·         On-the-job training with mentorship coaching to work with a designated business unit/ function
·         Dynamic and teamwork environment
Talent we are looking for:
·         Bachelor/Master/ MPhil/PhD degree in Electrical Engineering, Mechanical Engineering, Industrial Engineering, Manufacturing, Automation or related Engineering disciplines
·         A team player who is eager to learn and with good work attitude
·         Well versed in English and Chinese (Both Cantonese and Mandarin)
If you're interested in exploring our career opportunities, please register for the talk session via https://goo.gl/forms/OCN8SxHpQD5mD20a2.
You are also invited send your CV (with your Major of Study and Contact details) to campusrecruitment.asia@johnsonelectric.com by 6pm 29 March 2019 (Friday).