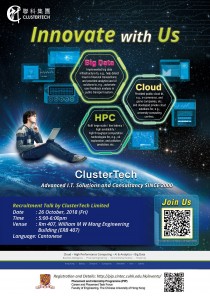 Date: 26 Oct 2018 (Friday)
Time: 5:00 – 6:00 pm

Venue: Rm 407, William M W Mong Engineering Building (ERB 407)
Language: Cantonese
Registration will be closed at 11:00, 26 Oct 2018. Those who are not registered may try to walk in on a first-come, first-served basis.
ClusterTech
Advanced I.T. Solutions and Consultancy since 2000
Innovate with ClusterTech
Big Data:
Implemented big data Infrastructure to, e.g., help detect fraud in financial transactions; and provided analytics and AI solutions to, e.g., automate user feedback analysis in public transport system.
Cloud:
Provided public cloud to e.g., e-commerce, and game companies, etc; and developed private cloud solutions for e.g., university computing centres.
HPC:
Built large scale/ low latency/ high availability/ high throughput computation technologies for, e.g., oil exploration, and pollution prediction, etc.
Job opportunities:
https://www.clustertech.com/Career/Job-Opportunities
Website:
Enquiry:
Tel: 3943 8222 / 3943 8221
Email: job@cintec.cuhk.edu.hk