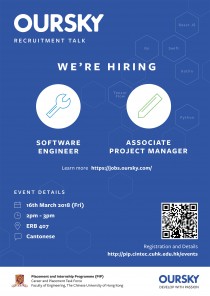 Date: 16 Mar., 2018 (Friday)
Time: 2:00 – 3:00 pm

Venue: Room 407, William M.W. Mong Eng. Bldg. (ERB 407)
Language: Cantonese
Registration will be closed at 11:00, 16 Mar., 2018. Those who are not registered may try to walk in on a first-come, first-served basis.
Oursky Limited Career Talk
Speaker: Mr. Ben Cheng (Co-Founder of Oursky)
Highlights of the Talks
Introduction to Oursky and openings

Introduction to Culture and Life at Oursky

Interview process
About Oursky Limited
Oursky is a small software studio proudly based in Hong Kong. Our goal is to create tech which is fascinating to developers, with great & usable design and makes lives better.
Our works include:
Oursky.com (http://oursky.com/) – we help our clients work out what comes next for their business and build web/mobile digital products that bring it to life.
Skygear.io – we build an open-source serverless platform for web and mobile apps so that developers can focus on building amazing experiences quicker, easier, and securer, without messing with the backend infrastructure.
Skylab.ai – we apply cutting-edge machine learning technology to our clients' business and innovate into the futures.
We're hiring:
Web/ Mobile App Developer (Full time/ 1-year final year internship)

Associate Project Manager
If you wish to know more about Oursky, please come to join this Career Talk and discover more at https://jobs.oursky.com.
Enquiry:
Tel: 3943 8222 / 3943 8221
Email: job@cintec.cuhk.edu.hk