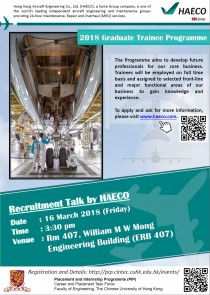 Date: 16 Mar., 2018 (Friday)
Time:
3:30 – 4:30 pm
Venue: Room 407, William M.W. Mong Eng. Bldg. (ERB 407)
Registration will be closed at 11:00, 16 Mar., 2018. Those who are not registered may try to walk in on a first-come, first-served basis.
The Programme aims to develop future professionals for our core business. Trainees will be employed on full time basis and assigned to selected front-line and major functional areas of our business to gain knowledge and experience.
To apply and ask for more information, please visit www.haeco.com.
Enquiry:
Tel: 3943 8222 / 3943 8221
Email: job@cintec.cuhk.edu.hk