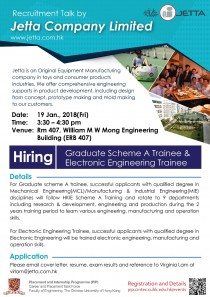 Date: 19 Jan., 2018 (Friday)
Time: 3:30 – 4:30 pm

Venue: Room 407, William M.W. Mong Eng. Bldg. (ERB 407)
Registration will be closed at 11:00, 19 Jan., 2018. Those who are not registered may try to walk in on a first-come, first-served basis.
Jetta is an Original Equipment Manufacturing company in toys and consumer products industries. We offer comprehensive engineering supports in product development, including design from concept, prototype making and mold making to our customers.
For Graduate scheme A trainee, successful applicants with qualifies degree in Mechanical Engineering (MCL)/ Manufacturing & Industrial Engineering (MIE) disciplines will follow HKIE Scheme A Training and rotate to 9 departments including research and development, engineering, manufacturing and operation skills.
For Electronic Engineering Trainee, successful applicants with qualified degree in Electronic Engineering will be trained electronic engineering, manufacturing and operation skills.
Please email cover letter, resume, exam results and reference to Virginia Lam at virlam@jetta.com.hk
Scheme A Trainee Recruitment Notice
Enquiry:
Tel: 3943 8222 / 3943 8221
Email: job@cintec.cuhk.edu.hk